Mission Statement
To provide Keys to Opportunities for students at Lake Region State College, through fundraising initiatives to support scholarships and other priority needs at LRSC, and through advocacy efforts to strengthen instruction, encourage enrollment, and access resources needed to effectively serve students and the community.
Students matter at Lake Region State College. LRSC promotes learning and growing both on campus and in the Devils Lake community. Our faculty and staff help students down the path of success in college and in life.  We show support for our students' continued success as they prepare for lifelong careers.  We motivate them to pursue excellence by raising dollars for scholarships and program support. Last year the CCF provided scholarships to over 400 students and support to fifteen excellent and innovative programs at LRSC.  That's why we say at Lake Region State College, We Change Lives.
The Community College Foundation – a designated 501(c)3 charitable organization – remains dedicated to advancing LRSC. The board of directors is committed to good stewardship of donor gifts. Gifts to the Community College Foundation are tax-deductible as allowed by law. For more information please contact the CCF office at lrsc.foundation@lrsc.edu or call 701-662-1520.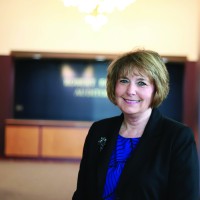 Elonda Nord is the Executive Director of the Lake Region Community College Foundation of Devils Lake, ND. Elonda has been the Executive Director at the Foundation for three years and on staff at LRSC for the past six years. She was previously the Manager at Altru Clinic - Lake Region and the Human Resources Director at Western State Bank. A native of the Lake Region Community, she graduated from Lake Region State College and Mayville State University. She continues to remain active in many organizations within the community. 
Natalie Miller, Advancement Coordinator 
Natalie Miller is the Advancement Coordinator at the Community College Foundation office. She contributes to the Foundation by executing activities and strategies that support the CCF's financial records management, fundraising, communication, and advocacy work.
She is a native of Petersburg and a 1999 graduate of UND-Lake Region, where she earned her Associate of Applied Science degree in the Legal Assistant program. She was also a member of the Lady Royals basketball team during the 1997-1998 season. She earned her Bachelor of Science in the Legal Assistant program at Minnesota State University Moorhead in 2002. Her husband, Brian, is a Devils Lake native and a 1999 graduate of UND-Lake Region's Simulator Maintenance Technician program. They moved back from the Twin Cities area in 2021 with their son, Anthony, and live in rural Devils Lake.
Contact
Community College Foundation  |  lrsc.foundation@lrsc.edu  |  1-800-443-1313  |  701-662-1520