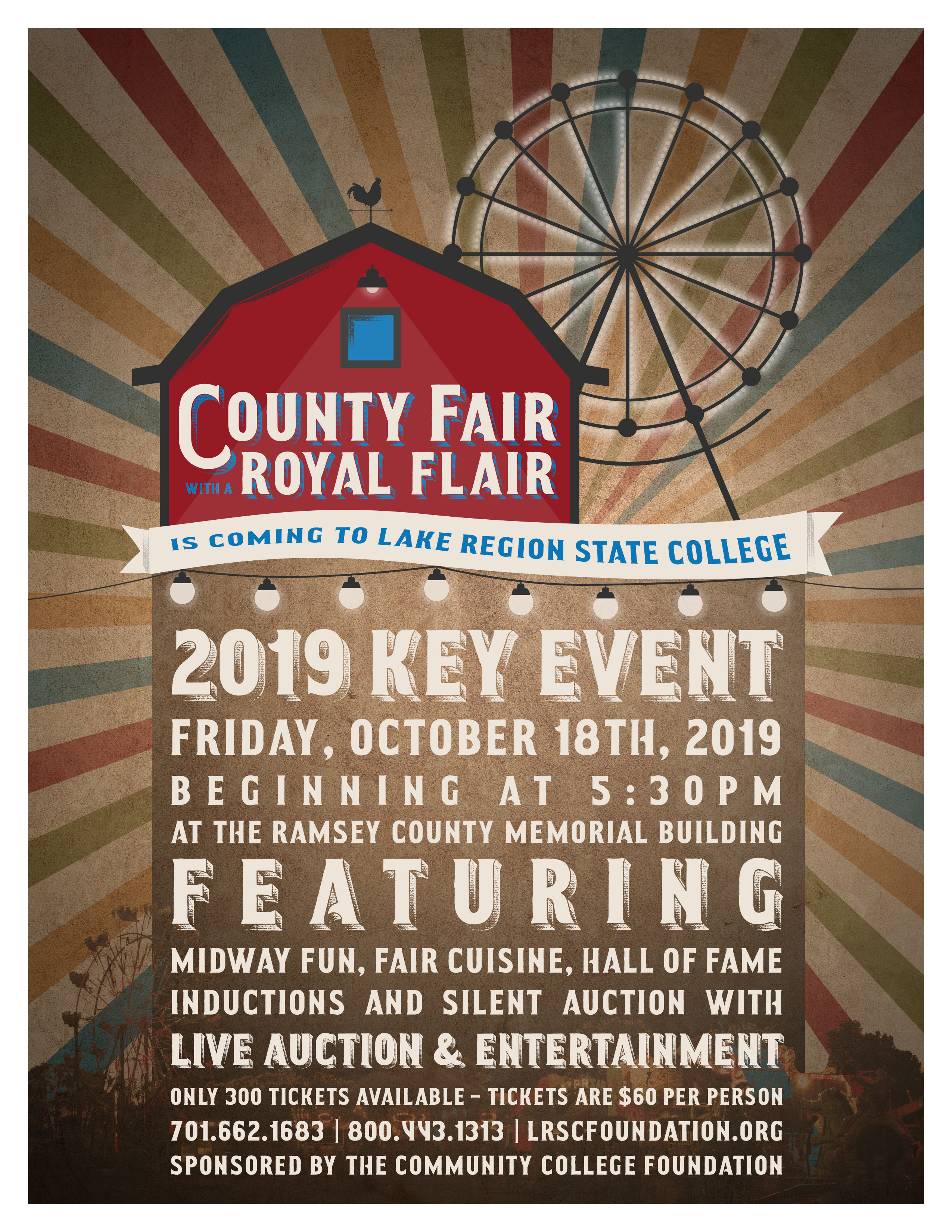 Each fall the entire community gathers to support Lake Region State College and the Community College Foundation. The Key Event raises money used to support students with scholarships, the athletic program and other special projects. 
Since 1992, the Key Event has brought the community together with a night of silent auction bidding, games, raffles, dinner and live auction event.
Coming this year...County Fair with a Royal Flair
The Key Event will be held Friday, October 18th, 2019 beginning at 5:30pm at the Ramsey County Memorial Building. This year's event will feature midway fun with games and raffles and some fair food favorites. As is tradition, we will begin our silent auction bidding and social at 5:30pm and continue the night with dinner, hall of fame inductions, 50/50 and LIVE auction.
Hall of Fame Inductions
Basketball is a Lake Region tradition and this year's hall of fame inductees are part of that tradition. In his 2014-2015 inaugural season, Head Coach Danny Mertens led the Royals to their second consecutive NJCAA National Tournament appearance. The 2014-15 team finished the season with a 26-7 overall record and 9-3 in the Mon-Dak. They were Mon-Dak, Region XIII and District D champions and had three All-Conference players (Taylor Henningsgard-1st team, Kennedy Henningsgard-1st team, and Sara Schwanke-2nd team). The team holds LR records for most team assists in a single game, 39, and highest margin of victory, 88.
Members include: (standing L-R) Morgan Titus, Sara Schwanke, Meghan Jorgenson, Becca Eberle, Megan Cantellano, Ashtin Freije, Taylor Swanson, (sitting L-R) Shaina Stevenson, Kelsey Schlenk, Samone Motley, Kennedy Henningsgard and Taylor Henningsgard with Assistant Coach Shelby Krueger (not pictured) and Head Coach Danny Mertens (not pictured) .
Our second induction is a member of the 2014-15 team and the 2015-16 three-peat team. She was also named a 2016 All-American. Kennedy Henningsgard comes from a basketball family tradition. She was the third in a line of Henningsgards to come to Lake Region State College to continue her education and basketball career. She was preceded by sister Jess and was able to play ball with sister Taylor during the 2014-15 season. They were followed by brother Kyle Henningsgard. Kennedy ranks 5th in all-time points for LRSC with 1058 points in two years and most 3-pointers by a sophomore in a single season with 88. During the 2015-16 season, the team finished with another string of championships (Mon-Dak, Region XIII and District D) and a third consecutive berth into the NJCAA National Tournament. Kennedy helped lead the team with an average of 16.6 points per game (15th all-time) and was a two-time Mon-Dak Player of the Week. She was also named an All-Academic team member with a 4.0 each year.
Congratulations to the 2014-15 team and Kennedy Henningsgard on your Hall of Fame inductions!
Some new entertainment
This year the Key Event will be adding some fun entertainment after the live auction. We want to keep the celebration going and would love for the community to join us. Following the live auction, Slamabama will be taking the grandstand at the County Fair with a Royal Flair! We will be opening the doors at 10pm for the public to join our fair festivities. There will be a $10 cover charge. We are excited for this new addition and hope to see you there!
Get your tickets